A & B Transmissions is open for business during this time. The health and safety of our staff and customers is our top priority. We are maintaining the Canadian Government recommended health & safety measures during this challenging time. Thank you for your continued support!
European Vehicle Transmission Experts
A&B Transmissions specializes in the repair of European vehicle transmissions for Audi, BMW, Land Rover, Mercedes, Volkswagen, MINI, Jaguar, Porsche and other quality European brands. We also repair engines, manual transmissions, AWD systems and differentials.
Our highly trained technicians use the latest state-of-the-art technology to ensure your luxury vehicle is repaired to the highest quality standards. Contact us today for an estimate.
A&B Transmissions is conveniently located at 19879 Fraser Highway, which we have called home for over 40 years. Our 10,000 sq. ft. state-of-the-art facility has two stories, seven bays and can handle any vehicle from a compact car to a 5 tonne RV or truck.
A&B Transmission is a premier transmission and automotive repair shop proudly serving the Langley, Surrey and Cloverdale area since 1975. We provide everything from factory recommended maintenance to major engine and transmission repairs. Call us today at 604-530-9101 and let us handle all of your vehicle repair and maintenance needs.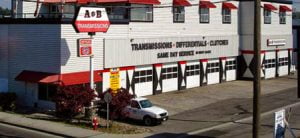 Client Testimonials
"Brought my vehicle in to have a transmission leak repaired. They not only fixed the leak but did a drive line inspection/assessment and road test for operability. That's why I'll come back here, I trust their abilities to repair and assess problems with my vehicle and they do it quickly and well. Thanks very much."
"Great service I have to say the service has been top notch, receiving a quick response to every question or email I generated. Very prompt with the estimate and willing to do any after service that may be required. Friendly efficient and very knowledgeable is how I would rate the staff. Rick"
"Always professional and promote service on our family vehicles. Jody is always very personable and knowledgeable."
When needed, emergency roadside service in Langley provides the relief and sense of safety many want in moments of crisis. Which A&B Transmissions is here to help our local drivers with, turning a stressful situation
Perhaps you have recently had a generic oil change at a local drive-thru service centre and they mentioned your differentials. This is often on the list of checks for service centres - and something
We recently posted a somewhat comical article on our Facebook page, which discussed how manual transmissions are now considered an 'anti-theft' device. This is due to the rapid decline in manufactures producing manual vehicles, as
Whether you need a regular maintenance service for your vehicle or you're looking to repair your transmission, you can trust that our highly-trained technicians will handle all of your vehicle needs.
Only takes a few seconds!