Welcome to A&B Transmissions
A & B Transmissions is your premier Langley Transmission and Auto repair facility. We specialize in Transmission Repair and offer general repairs as well. Whether you need a minor or major repair, you can expect A & B to get the job done right.
Langley Transmission Experts Servicing
Everything from trucks, cars and SUV's
Our certified technicians have the experience and equipment to service Domestic, Asian  and European import vehicles.
Rv's and work trucks (upto 5 tonnes)
State-of-the-art technology
We keep pace with every twist in auto repair technology.
All Gas and Diesel Engines
We have the expertise and technology to service your vehicle
Including front wheel drive, rear wheel drive, all wheel drive and 4×4
Where are we located?
Proudly serving the Langley area at 19879 Fraser Hwy for over 40 years – since 1975 at the same location. At close to 10,000 sq/ft, our state-of-the-art facility includes 2 stories and 7 bays, and is equipped to handle: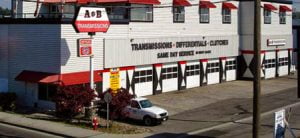 All Type OF Vehicles
European, American or Asian; you car is home with us. 4X4, rear or front wheel drive; nobody understands the differences better than us.
All Type OF Vehicles
If there is a vehicle we cannot handle, no manufacturer has ever made it.
Our Partners
CAA and ATRA are our trusted partners. If these two have so much faith in what we do, you have double reasons to trust in our service.
Our Partners
Book your appointment today with our technicians right here right now.
All Type of Fuel
Diesel or petrol; we know every single nut in your vehicle's engine.
All Type of Fuel
All Gas & Diesel engines
All drivetrains
including front wheel drive, rear wheel drive, all wheel drive and 4 x 4 (including dually's)
All drivetrains
including front wheel drive, rear wheel drive, all wheel drive and 4 x 4 (including dually's)
Our Satisfied Clients Say
"Brought my vehicle in to have a transmission leak repaired. They not only fixed the leak but did a drive line inspection/assessment and road test for operability. That's why I'll come back here, I trust their abilities to repair and assess problems with my vehicle and they do it quickly and well. Thanks very much."
"Great service I have to say the service has been top notch, receiving a quick response to every question or email I generated. Very prompt with the estimate and willing to do any after service that may be required. Friendly efficient and very knowledgeable is how I would rate the staff. Rick"
"Always professional and promote service on our family vehicles. Jody is always very personable and knowledgeable."
A slipping clutch? Many drivers have experienced a slipping clutch in their vehicle. It is a common wear and tear repair, but one that should not be ignored for too long. While clutch repairs
WHY YOUR CAR REFUSES TO GO INTO GEAR Are you experiencing a scenario where your car refuses to go into gear? A few issues may be causing you this trouble. When faced with such
What Does Check Engine Light Mean?? It happens to everyone; the terrifying check engine light goes on, and it often happens at the worst times. Your car's check engine lights could pop on for
Serving With Loyality
Whether you need a regular maintenance service for your vehicle or you're looking to repair your transmission, you can trust that our highly-trained technicians will handle all of your vehicle needs.
Only takes a few seconds!